ANDRÉ MALRAUX: THE COMMITMENT TO ACTION
IN
LA CONDITION HUMAINE
(Version with quotes in English)
In an excellent article published in 1948, which deserves closer attention than it has so far received, Nicola Chiaromonte writes that:
André Malraux has pushed to its extreme consequences that modern pragmatic impulse which tends to see in the world of action the only reality, and, what is more, to reject any proposition which cannot be translated into a force, an act or a series of acts.1
The present article seeks to examine some of the implications of this assessment as they apply to Malraux's third, and perhaps most influential, novel, La Condition Humaine. It will be argued here that the perspective offered by Chiaromonte's statement goes to the very heart of the world-view embodied in this novel and in particular that it is of key importance to the novel's central character, the revolutionary leader, Kyo Gisors. The underlying, controlling principle of La Condition Humaine, it will be contended, stems precisely from a "pragmatic impulse" - a tendency to regard action, with its concomitant world of practical, tangible consequences, as the sole reliable source of meaning. The impulse is one that Chiaromonte quite properly terms "modern", since it constitutes a highly characteristic expression of the prevailing contemporary mood which so frequently displays a deep distrust of abstractions of any kind, and which consents to rest its faith only in what can be seen and touched, here and now - the concrete, "observable" fact.
Critics of La Condition Humaine have seldom failed to comment on the importance of action, particularly where the character of Kyo is concerned. With the exception of Nicola Chiaromonte, however, the prevailing tendency has been to argue that the fundamental dimension of the novel lies elsewhere, and that the function of action should ultimately be assigned a secondary importance only. Many critics, for example, contend that each of the major characters is primarily intent on seeking a form of escape - a kind of Pascalian "divertissement" - from a human condition which, generally speaking, they describe as a state of meaninglessness and alienation resulting from the collapse of all credible value systems. Together with other alternatives such as eroticism, mythomania, and the will to power, action is said to offer a possible escape from this predicament, or a possible means through which the human condition may, in the terminology of some critics, be "transcended". Viewed in this light, action itself is not the issue of central concern. Action is merely one among several alternatives that might be adopted in pursuing the ultimate objective, which is the attempt to escape from, or "transcend", the human condition.2
The interpretation of La Condition Humaine offered in the present article involves a major revision of these aspects of critical opinion. Contrary to the frequent practice of assigning action a secondary or dependent role, the analysis that follows places action squarely at the centre of attention and sees it, unequivocally, as the fundamental value of the novel. In the present discussion, La Condition Humaine will be approached primarily through two of the main characters, Kyo Gisors and the "baron" de Clappique, but an analysis of these two characters ultimately illustrates the more general point that Malraux's underlying intention throughout this novel is to explore the characteristics of a world portrayed solely in terms of the potentialities and limitations of practical, clear-sighted action. In Chiaromonte's words, Malraux confronts us with a world in which action is "the only reality" - a world that "rejects any proposition which cannot be translated into a force, an act, or a series of acts." Far from playing a role of secondary importance, action in this context forms the very mould in which all experience of the world is cast.
In addition to this, the present article takes issue with the widespread critical tendency to stress notions of "divertissement", or escape, to explain the function of action in La Condition Humaine. Such interpretations, which depict action as a form of distraction or release from an oppressive and "absurd" reality, are undoubtedly influenced to some degree by the example of Pascal. They are perhaps also modeled, even if unconsciously, on the stereotyped image of the soldier of fortune (the French Foreign Legionnaire perhaps?) who plunges headlong into some difficult and dangerous enterprise in order to blot out the painful memories of a world he has left behind. Fundamentally, action in a context such as this is intended as an antidote to lucidity. The crucial point to be grasped in La Condition Humaine, however, is that far from serving as a means of avoiding unpalatable truths and escaping from reality, action in this novel affirms a characteristic modern function and constitutes the means by which reality is defined. Action becomes the fountainhead of all reliable knowledge about the real world: it constitutes the very source of all meaning and the principle upon which all truth - palatable or unpalatable - is founded.
How, then, does this principle operate, and what kind of "definition of reality" does it produce?
It is important to stress, first of all, what is not at issue here. One is not, as some critics appear to be, in search of some form of ethical system founded on action - as if action could somehow serve as a basis for universally applicable, ready-made formulae designed to distinguish good from evil in human affairs.3 Still less, as other critics seem to imply, is it a question of demonstrating that action is in some way a principle superior to others that might be opposed to it, such as contemplation or introspection, for example.4 The question at stake relates rather to a fundamental issue of perception and comprehension. One is asking: What kind of world does action body forth when it becomes the sole source and determinant of reality? What would a world be like in which the original, bewildering chaos of things and events is given order and significance - its only order and significance - through the potentialities and limitations of that most ordinary of human experiences, practical action?
One can begin to discern the outlines of this highly pragmatic attitude in the following, very characteristic passage, which occurs early in Part I of La Condition Humaine. At this point in the novel, the revolutionary leader, Kyo Gisors, is considering the state of preparedness of his forces just prior to the uprising in Shanghai. Organizational duties take Kyo to the city's squalid, poverty-stricken districts from which the revolutionary forces are to draw their major support. As he walks through these areas, teeming with human misery and degradation, his attitude towards them - and, by implication, towards the revolution - emerges clearly:
"A good district," thought Kyo. For more than a month now, moving from one committee meeting to another to organise the insurrection, he had stopped seeing the streets: he no longer saw the mud beneath his feet, only a plan of action. The endless struggle of these millions of living beings for their daily bread was yielding place in his mind to another more vital reality. The foreign Concessions, the rich districts, with their iron railings at the ends of the streets washed by the rain, no longer existed for him except as threats, as barriers - long, windowless prison walls; these nauseous slums, on the other hand, - which would furnish the bulk of the revolutionary shock troops -, throbbed with the pulse of multitudes on the watch. He emerged from a lane way and turned abruptly into one of the larger, well-lit streets stretching out before him. Despite the driving rain, which half obscured its outlines, he could see it clearly in his mind's eye, because this street would have to be attacked in the face of rifles and machine guns firing along its full length.5
This passage merits careful consideration. It is important to note that the spectacle of these "nauseous slums" does not prompt Kyo to any of the conventional expressions of pity or indignation; nor (despite what many critics have suggested to the contrary) does it urge him to seek explanations for this mass suffering through the categories of any social or economic theory.6 Instead, his reactions are purely pragmatic: he views the situation solely through the eyes of a tactician, thinking only of the practical implications of what he sees and the part these factors will play in the immediate future of the uprising. The area through which he is walking is the one in which the revolutionary "shock troops" are the most numerous and, therefore, despite its extreme poverty and degradation, it is, for him, "a good district". The miserable daily struggle for existence of the poor yields place in his consciousness to the role these men and women are to play in the coming events: he thinks only of their place in the plan of action. His attitude towards the wealthy areas, the areas occupied by the ruling elite, follows the same pattern. The rich are not seen as the incarnation of some general historical force: they are not "the capitalists," or "the standard-bearers of private property," or the "exploiting classes". For Kyo, the significance of these "rich districts" derives solely from their immediate, practical importance: here, the revolutionary shock troops will meet resistance and counter-attack. The wealthy areas are, therefore, simply obstacles or threats: "long, windowless prison walls." Finally, even the very street into which Kyo turns is perceived solely in terms of its practical significance: he visualizes it clearly, despite the driving rain "because it would have to be attacked in the face of rifles and machine guns firing along its full length."
Right throughout La Condition Humaine, Kyo's experience of the Shanghai uprising is consistently presented in this way. At no time does he attempt to explain this vast collective event in terms of any social or economic theory; at no time does this event appear to him as the gradual, inevitable unfolding of historical forces; in short, at no time does he have recourse to any abstraction - to any idea. His grasp on revolutionary events is established and maintained solely through his appreciation of the tangible implications of action currently taking place. He is the complete pragmatist who, in Chiaromonte's words, has decided to "reject any proposition which cannot be translated directly into a force, an act, or a series of acts."
There is no suggestion at any point throughout La Condition Humaine that this reliance on action necessarily implies a desire for violence. The subject of violence has attracted many of Malraux's critics,7 and there is obviously good reason for this. Where Kyo is concerned, however, it is essential to recognize that, although the exigencies of particular situations may at times demand a violent response, violence is in no sense an intrinsic or indispensable part of his experience of action. To misunderstand this is to miss the basic point at issue: Kyo perceives the changing world of events through the eyes of the determined pragmatist who, once having espoused a cause of action, bends all his energies to the daily task of ensuring its continued success. If such a cause is one that involves a mass uprising - as Kyo's is - violence may well be a necessary instrument when circumstances require it. But violence for its own sake - violence when there is no practical need for it - is quite outside this frame of reference and quite foreign to Kyo's character. At best, such conduct would be pointless; at worst, when tactically foolish, it might well constitute a recipe for disaster. Any such a priori bias towards violence must, sooner or later, offend against the basic canon of the pragmatist's creed, which requires that action should be adapted to circumstances - that action should prove effective.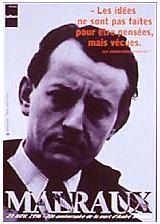 La Condition Humaine (published in English as Man's Estate or Man's Fate) appeared in 1933, winning the Prix Goncourt. It is generally considered to be one of Malraux's best novels.
This essay focuses on the significance of action in La Condition Humaine, and on the meaning in this novel of the concept of the 'human condition'.
The essay was published in French Forum, Vol. 6, January 1981, No 1. 61-73.
(The translations are my own.)