Reguli Cavy and Rabbit Stud is a small rabbitry and caviary located in Canberra's Tuggeranong Valley ("Tuggeranong" means "a cold place" and they aren't kidding!).

The name (which is registered with both the Australian National Cavy Council and the Canberra Rabbit Club) is a sort of pun. 'Reguli' is Latin, a diminutive of the plural of 'rex' and as I was breeding Mini Rex at the time I thought it appropriate: Little Rex or Little Kings. Later it was still appropriate I bred Rex cavies for many years and have kept a couple of Standard Rex as patting/show bunnies. Nowadays I just have a bunch of animals who merely think they are kings.

Besides the rabbits and guinea pigs, there are two cats in residence. These are a Hatshepsut, a Blue Abyssinian, and Vico, a Blue Somali. A third, Aditya, a Tawny Abyssinian, died in Sept. 2017. These were shown regularly in Canberra and at the annual Abyssinian Cat Club of Australasiaís show in Forestville, Sydney. They are now retired mainly because the two Abyssinians got fed up and Vico was badly handled by a clumsy steward and has gone right off showing which he used to enjoy. For more on my cats, go here.

Besides showing, I did displays in the region to promote the cavy and rabbit fancies. These have now mostly dried up. Some community events have disappeared because of lack of volunteers to run them. and some agricultural shows have gone in a different direction. I still do the Canberra & South Coast Rabbit Club and the Capital Country Cavy Club display in the Farmyard Nursery at the Royal Canberra Show but no longer Bungendore Show or Gunning Show. I also do the Windellama Field Day and Covenant School's Fair every second year in October. The displays I did at the Goulburn Show have now become actual rabbit or cavy shows.

I used to do the Canberra Pet Expo before they started charging non-profit associations like the rabbit club too much money and the Murrumbateman Field Days for many years until they decided they would rather have a coffee shop than the Canberra Rabbit Club. I did a few Gundaroo Bush Festivals when it was held on the Common and the Yass Show for a couple of years.. .Likewise the Yass Scouts Market Day and the Michelago May Fair. Michelago has returned in recent years but as a spring fair. I did it once (in 2017) but found the site unsuitable as the westering sun was too hot for the cavies and I lost one a few days later.. I've also done one-offs at pre-schools, special schools and rural youth groups.

Please note: I do not export either cavies or rabbits overseas. Too difficult. Nor will I sell rabbits and cavies interstate if it entails air freighting them as it isnít economical for the buyer given the high cost of shipping. Not to mention that the airport is about as far from where I live as possible and you have to get there before 5am! Plus there can be all sorts of hassles such as animals being sent from Canberra to Adelaide instead of Brisbane and finally getting there via Sydney because there isn't a direct flight. Too much stress on the animals in my view.

New website showing where outbreaks occur in Australia. Also has information on campaign to allow the vaccine into the country.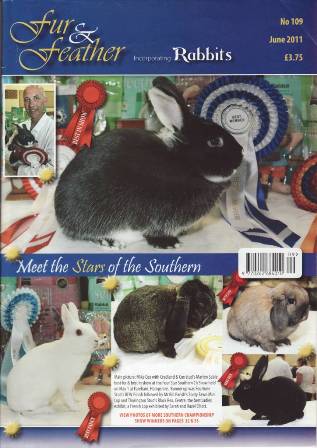 Totally unofficial Subject Index to Fur & Feather 2001-