THE NINJA - ENGLISH LANGUAGE BIBLIOGRAPHY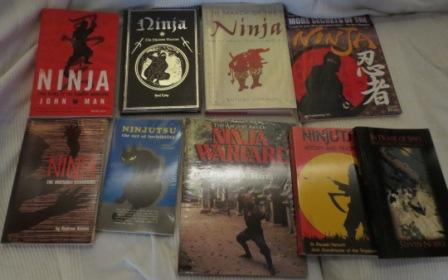 It has to be said there is an awful lot of really rubbish books out on ninja/ninjutsu put out to cash on the ninja craze of the 1980s (post-Shogun) and later. Most of these purport to teach the "real" ninjutsu such as ninja "mind-reading" or "mind control" or "dim mak"- oh puhleeze) and you won't find them listed here. Also omitted are the many fine works on ninja techniques if they are purely manuals with no historical background. The books listed below are a mixed bag, some are excellent, many are good, and the others not so much.
Adams, Andrew, Ninja: the Invisible Assassins. Ohara, 1973.
An oldie but a goody. Very comprehensive and arguably the first full length book on the history and practices of ninja published in English. Adams' sources are Hatsumi (who features in many photographs though he gets his given name wrong and calls him "Yoshiaki" instead of "Masaaki"). Okuse Heishichiro (a writer on ninjutsu to whom Cummins gives very short shrift in his In Search of the Ninja), Fujita Seiko and Nawa Fumio. Some minor glitches include "ninjitsu" instead of "ninjutsu" and some of the information is a bit dated. But hey, it even mentions The Samurai and the ninja craze in Australia.
Campbell, Sid, Exotic Weapons of the Ninja. Citadel Press, 1999 (© 1994) ISBN 0806520639
Contains a lot of historical as well as practical information about all sorts of ninja weaponry.
Campbell, Sid, Ninja Shuriken Throwing the Weapon of Stealth. Paladin Press, 1984. ISBN 0873642732
What it says on the tin - everything you could possibly want to know about shuriken (star-knives) and how they were used
Cummins, Antony, Hattori Hanzo: the Devil Ninja. WordClay, 2010 ISBN 9781604816976
An attempt at biographies of the four men named Hattori Hanzo - I say attempt because the sources are incomplete and often contradictory. Brings together a lot of material I've only ever seen in Japanese.
Cummins, Antony, In Search of the Ninja. History Press, 2012 ISBN 9780752480930
Cummins, Antony, Shinobi Soldiers: an Investigation into the Ninja. WordClay, 2 volumes, 2009-2010 ISBN 9781604816747
Much of this material, refined, polished and backed up by further research, appears in Cummins' later book In Search of the Ninja. These two volumes cover such things as the origin of the ninja, their weapons and tools, dress, methods, skills and historical documents. A number of things about ninja are debunked quite convincingly. (Surprising how much The Samurai got it right, down to "spells" for changing relationships seen in "Contest of Death"). Drawbacks are that the books needed a good editor, Cummins' prose can be clunky and some of his argument circuitous. The illustrations are rather poor photocopies.
Daniel, Charles, Traditional Ninja Weapons: Fighting Techniques of the Shadow Warrior. Ohara, 1986 ISBN 0865680752
Mainly technical information and photos on training how to use the weapons but does contain historical information on when and where the weapons originated.
Draeger, Donn F., Ninjutsu: the Art of Invisibility. Lotus Press, 1980. ISBN 0914778196
Draeger was a martial artist who wrote a number of books on Japanese martial arts. He was also a friend of Hatsumi Masaaki's. This covers much the same territory as Adams' book but is somewhat more sensational, repeating a number of the wilder and woollier ninja yarns, including some about ninja who are actually characters out of novels published in the early 20th century. Lively reading but to be taken with a grain of salt.
Hatsumi, Masaaki, Essence of Ninjutsu: the Nine Traditions. Contemporary Books, 1988. ISBN 0809247240
Extremely interesting explaining ninjutsu with illustrations chiefly drawn from the life of Takamatsu Toshitsugu, Hatsumi's teacher and mentor and predecessor as head of the Togakure-ryu, and from the lives of the other heads over the past 1000 years (always deal with an old established firm, I say).
Hatsumi, Masaaki, Ninjutsu: History and Tradition. Unique Publications, 1981.
What is says, a history with an overview of weapons and techniques well illustrated with photos.
Hatsumi, Masaaki, The Way of the Ninja: Secret Techniques trans by Ben Jones. Kodansha International, 2004 ISBN 9784770028051
On ninja, their philosophy and essence but including history and lavishly illustrated with photos of various techniques and weapons. One interesting photo is of Hatsumi with Ose Koichi and Maki Fuyukichi (he was an advisor on The Samurai).
Hayes, Stephen K., The Ancient Art of Ninja Warfare: Combat, Espionage and Tradition. 1988 ISBN 0809253311
Useful section on the hand symbols as well as history of various skills.
Hayes, Stephen K., The Mystic Arts of the Ninja: Hypnotism, Invisibility and Weaponry. Contemporary Books,1985. ISBN 0809253437
Good historical section with photos of various houses belonging to ninja and places plus biographies of historical ninja.
Hayes, Stephen K., Ninja vol. 1-vol. 6, Ohara, 1980-2007
Mainly instructional but with some history.
Hayes, Stephen K., The Ninja and Their Secret Fighting Art. Tuttle, 1981 ISBN 0804813744
Good section on the history and interesting chapters on his discovery of ninjutsu and Hatusmi, well illustrated with photos.
Hayes, Stephen K., Ninjutsu: the Art of the Invisible Warrior. Contemporary Book, 1984 ISBN 0809254786
Some history and thoughts on the way martial arts have gone, takes opposite view of Cummins who sees ninja and samurai as very much intertwined, meaning that the one was often also the other, Hayes sees a dichotomy: samurai were about total obedience and ninja were free thinkers not so bound.
Hevener, Phillip T., Fujita Seiko: the Last Koga Ninja. Xlibris, 2008 ISBN 9781436301763
Interesting and well researched biography of this rather enigmatic figure
Jay Sensei, Tiger Scroll of the Koga Ninja. Paladin Press, 1985 ISBN 0873643135
Purports to be a translation of "the Koga ninja tiger scroll (tora no maki") but rather suspect it isn't any of those 'ninja manuals' cited in Cummins' In search of the ninja. Not a bad compendium of the usual techniques, tricks, weapons and equipment attributed to ninja (though many are not unique to them e.g. straw sandals). Makes the usual mistake about 'water spiders', though. Contains some history.
Levy, Joel, Ninja: the Shadow Warrior. Sterling, 2008 ISBN 9781402763137
A very attractively produced book done up as an old (Western-style) volume containing sound information (despite including Ashida Kim in his bibliography - Hayes, Turnbull and Hatsumi are also there). Very comprehensive look at historical ninja and their weapons and equipment. It includes stories about famous ninja such as Hattori Hanzo and Fuma Kotaro.
Lewis, Peter, Art of the Ninja. Gallery Books, 1988 ISBN 0831704772
Lavishly illustrated with colour and b/w photos of Bujinkan students doing their thing to illustrate ninja combat, this is also a comprehensive look at ninja history with sections on popular culture and modern ninjutsu.
Man, John, Ninja, 1000 years of the shadow warriors. Bantam Press, 2012 ISBN 9780593068120
Nojiri, Steven, In praise of spies, ninjutsu's role in shaping Japan. Publisher not identified, 2012
Uses most of the sources Cummins does in In search of the ninja and discusses the roles of the various types of ninja over time, their techniques and tools.
Oda, Hirohisa, Real Ninja. Ninja Publishing, 2002 ISBN 0972409513
Comprehensive history of ninja with detailed look at weaponry, biographies of various ninja by a Japanese author writing in English. Includes a list of ninja houses and museums with contact details. Index but no bibliography and doesn't give the sources for any of the information.
Peterson, Kirtland C., Mind of the Ninja: Exploring the Inner Power. Contemporary Books, 1986 ISBN 0809249510
Extremely interesting and unusual book. The first part looks at the image of the ninja in (Western) films, television and novels. The second part examines the psychology behind these images and the reason for the appeal of ninja.
Sanada, Yukishiro, Ninja Training Manual. Dragon Books, 1986 ISBN 0946062161
Looks at various ninja weaponry, beginning with a short paragraph on each weapon's history followed by photographs demonstrating its use. A brief history of ninja is at the start of the book.
Turnbull, Stephen, Ninja: the True Story of Japan's Secret Warrior Cult. Firebird Books, 1991 ISBN 185314097
Solidly researched history by one of the foremost experts on medieval Japanese history with copious illustrations (usually from old Japanese prints). traces ninja history up to the present, noting ninja in popular culture from the Edo period to James bond. Includes bibliography and footnotes.
Turnbull, Stephen, Ninja AD 1460-1650. Osprey, 2003 ISBN 1841765252
One of Osprey's Warrior series, this focuses on the ninja "heyday" and updates Turnbull's earlier work with information not available to him at the time.
Turolla, Rodolfo, Koka Ryu Nin Jutsu, Inside the World of the Shadow Warriors. Publisher not identified, 2011.
Looks at history, weaponry, techniques and tactics but also at the philosophies an d spiritual aspect of historical ninja. Includes translations from old ninja manuals. A bit rough and unpolished in places.
Weiss, Al and Tom Philbin, Clan of Death: Ninja. Pocket Books, 1981 ISBN 0671430467
Another popular history which discusses tools, weapons, poisons, combat and invisibility, drawing much from Stephen Hayes and the Togakure-ryu. The last third consists of a collection of short stories about ninja with some very dodgy Japanese names.
Yamashita, Tadashi, Ninpo Ninjutsu: the Complete History and Training Guide. Unique Publications, 1986 ISBN 0865680841
Only the first 65 pages (out of 252) deal with historical ninja. It gives lists of weapons and brief definitions and some favourite ninja techniques and also brief biographies of the better known ninja. However, it tends to repeat a lot of the sensational, not much credited stuff (like telling the time by cats' eyes, Fuma Kotaro having fangs) and so on and some things are just not terribly accurate - the word is rappa not ranpa, a fairly basic mistake. It does have a lot of interesting photos of the weapons and devices, though.
Yoda, Hiroko and Matt Alt, Ninja attack! True tales of assassins, samurai and outlaws. Kodansha, 2010 ISBN 9784770031198
A fun popular history packed with lots of in formation of the sort usually found in Japanese books of this type.
Zoughari, Kacem, The Ninja: Ancient Shadow Warriors of Japan. Tuttle, 2010 ISBN 9780804839273
Books by ninja or samurai (or "Ninjutsu for dummies")
Chikamatsu Shigenori, Iga and Koka ninja skills translated by Antony Cummins and Yoshie Minami. History Press, 2013 ISBN 9780752493626
Natori, Masazumi, Shoninki: the Teachings of the Ninja, the 17th Century Manual on the Art of Concealment. Translated by Jon E. Graham. Destiny Books, 2010 ISBN 978159477433
Natori Masazumi, Shoninki, True Path of the Ninja. Translated by Antony Cummin and Yoshie Minami. Tuttle, 2011
The Secret Traditions of the Shinobi edited and translated by Antony Cummins and Yoshie Minami. Blue Snake Books, 2012 ISBN 9781583944356
Documentaries
Ninja tend to be tacked on to documentaries about samurai. However, there are a couple just about ninja.
Ninja Shadow Warriors produce by Untold History (http://untoldhistory.tv/ninja-shadow-warriors/) in 2012 and shown on the Smithsonian Channel, Yesterday Channel (UK) and others.
Shinobi: Winds of the 34 Generations produced by Magazine St Productions, 2005 (includes interviews with Stephen K. Hayes, Hatsumi Masaaki, and others). It is available through Amazon or there is a special edition director's cut on YouTube http://www.youtube.com/watch?v=0C_VRjGRDAk
Novels
These are novels where the ninja are the main characters, not merely the villains. Most are YA (young adult). Reviews of these can be found here
Abelard, Max, Night of the Ninja. London, Paul H. Crompton, 1983. ISBN 0901764612
Akunin, Boris, The Diamond Chariot. London, Phoenix, 2012 ISBN 9780753828199
Bradford, Chris, Young Samurai: The Ring of Earth. London, Puffin Books, 2010 ISBN 978041332536
Bradford, Chris, Ninja: First Mission .Barrington Stoke, 2011 ISBN 9781842999397
Higgins, Simon, Moonshadow: Eye of the Beast. North Sydney, Random House Australia, 2008 ISBN 9781741662832
Higgins, Simon, Moonshadow: the Wrath of Silver Wolf. North Sydney, Random House Australia, 2009 ISBN 978174166405
Higgins, Simon, Moonshadow: The Twilight War. North Sydney, Random House Australia, 2011 ISBN 9781864719772
Kano, Shinichi, Ninja Men of Iga. Thousand Oaks, Calif., Dragon Books, 1989. ISBN 0946062234
Lake, Nick, Blood Ninja. London, Corvus, 2010 ISBN 9781848873872
Lake, Nick, Lord Oda's Revenge. London, Corvus, 2011 ISBN 9781848873891
Lake, Nick, Betrayal of the Living. London, Atlantic Books, 2013 ISBN 9780857898098
Matthews, Andrew, Shadow of the Ninja. London, Usborne, 2010 ISBN 9781409506201
Pennwright, Russell, Prince of the Shadow Warriors, e-book originally published by AuthorHouse, Bloomington, Illinois, 2007
Toda, Katsumi Shadow of the Ninja. Isleworth, Middlesex; Thousand Oaks, Calif., Dragon Books, 1982 ISBN 0946062005
Toda, Katsumi Revenge of the Shogun's Ninja. Isleworth, Middlesex; Thousand Oaks, Calif, Dragon Books, 1984 ISBN 0946062080
Whitesel, Cheryl Aylward, Blue Fingers : a Ninja's Tale. New York, Clarion, 2004. ISBN 0618381392
Yamada, Futaro, The Kouga Ninja Scroll. New York, Ballantine Books, 2006. ISBN 9780345495105
Samurai bibliography Books on Tokugawa Japan in English The Samurai home page