GONE BUT NOT FORGOTTEN: THE SAMURAI IN AUSTRALIA - THE 1980S AND BEYOND
Things were rather quiet following the last full repeat of the series in the late 1970s. Monkey (another Japanese action series this time shown on the ABC) was a big hit and caused memories of The Samurai to resurface in some quarters, albeit briefly. Then in the mid 1980s things suddenly perked up.
Two episodes, one from the Fūma series and one from Ninja Terror were shown on David Lyle's Golden Years of Television in 1986 and 1987 respectively. When Lyle showed the first one, he spoke a little about the show and displayed a complete set of the gum cards mounted in a photograph album (the only set I'd seen in recent years outside my own though many have turned up later on eBay in the 2000s). He said, "…a Japanese adventure series that gained a huge following, The Samurai. Boy, what a night for everyone closer to 30 than 40, let alone 20. Can't say I never give you anything. I give you your youth. A program aimed at kids with dubbed voices should be a flop. SBS isn't exactly topping the ratings with their efforts. But recently Monkey grabbed the kids of the 80s. And in the 60s there was Phantom Agents and before that the big daddy of them all, The Samurai. All of these adventure shows were Japanese and had a stylish of the physical with the magic and the mystical. The Samurai was a Japanese cross between Robin Hood and The Lone Ranger. The story was set in feudal times with its wise hero, Shintaro, ever loyal to his shogun lord, roaming the wild land, protecting the innocent and opposing evil-doers. Shintaro, a samurai warrior, was accompanied on his travels by Tombei the Mist, the head of a group of good ninjas called the Iga Ninjas. All the ninjas not only had highly developed martial arts skills but magical powers as well. Most ninjas were opposed to the shogun and hence Shintaro and Tombei's enemies. And there were often stacks of them like Fuma, Koga, Kishu, Negishi and Puppet Ninjas. it was easy to tell they were all baddies because they scowled a lot and often wore black. Kongo, head of the Koga Ninja, was a dreaded fellow.
"Making up a third of the goodies with Shintaro and Tombei, was the young Shusaku. Like all kids in adventure shows, his main contribution was to get kidnapped regularly.
"The outstanding feature of the series was the dubbing – lips that moved while silence filled the screen. As well there was the distinctive violence, ninjas jumping backwards which looked suspiciously like people jumping forwards with the film running backwards. Of course, the other feature was the incredible star-knives used by the ninjas. All around Australia kids were cutting up jam tins to make their own. It's a wonder no one was killed. Also a wonder anyone can remember jam tins.
"The popularity of The Samurai was huge. No 10 year old in the country could ignore Shintaro and his little mates. And Scanlen even brought out bubblegum cards. Here's a look at these, which someone with a deeply committed sense of…affection for the ninjas has collected all 72. You've done very well.
"When the actor who played Shintaro, who was Koichi Ose, came to Australia, he was mobbed. His fans found it a pity he couldn't speak English, however.
"Tonight Shintaro has a run-in with the Fuma and in particular, Jinkuro the Owl, one of the ten leaders, one mighty bad ninja. Sit back, suck on a sake and here comes The Samurai."
At the conclusion of the episode, Lyle added, "Ah, pretty good stuff, eh? Fights, star-knives, backward jumps and evil potions. I guess the lesson to be learned is never trust a blind masseur serving tea made from purple grass. In fact, some of the jerky camera movements and strange cuts I have a feeling resulted from the heavy censorship of The Samurai that occurred when it came to Australia. It seems that often two minutes of violence was cut off the episodes to make them acceptable. No doubt today's kids raised from the cradle on snuff movies and Chainsaw Massacre wouldn't understand what all the fuss was about. Well, that's all I can cope with tonight. So, until next week, sayonara."
That Samurai fans were alive and well was demonstrated by the response to that episode, even though it was not one of the most riveting nor the most typical, lacking the usual pace. For the record, it was "Ninja Fukuro Jinkurō" (Aust. title: "Touch of Death"). The second episode was "Ninja ikibotoke" (Aust. title: "Living death"), much more typical as it had the fascinating Shinigami, the Deathless ninja of the Negoro, (think Deep Space 9's Gowron with Zaphod Beeblebrox's hair) and lots of action.
Suddenly people in SF fandom were remembering it and trying to get memorabilia of it. Mike McGann produced two T-shirts with Samurai motifs on them. One was based on the well known publicity photo of Shintaro in a purple kimono, sword half-drawn and the other was of Tonbei sitting on a roof.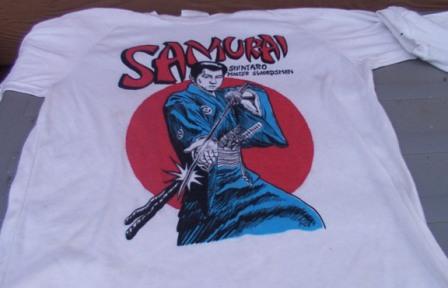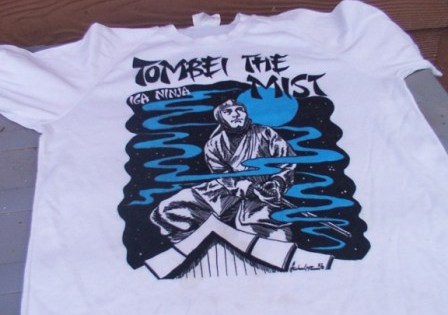 Unreported at the time Ōse returned to Australia in 1989 because a friend of his was buying an office building in Melbourne. This was his first trip to these shores since 1965. However, he was interviewed by reporter Matthew Franklin in Tokyo for a lengthy article that appeared in Feb. 1991 in the Herald-Sun (Melbourne) and the West Australian. In it we learned he retired in 1969 as an actor as he believed actors should go at their height of popularity and not hang around for the inevitable downhill slide. He became a successful property developer, building a $21.5 million office in Tokyo. In the 1980s he and his wife launched a chain of noodle restaurants. For more click on the link above.
Also in 1989 I published a fanzine in 1988 simply called The Samurai (though title actually read Onmitsu Kenshi in Japanese characters). This was based on an article I wrote for my own fanzine, Multiverse in 1980 before I had been able to do as much research as I had in the intervening years. It was sold via mail order at or at science fiction conventions. This fanzine, now long out of print, in turn became the basis of this website.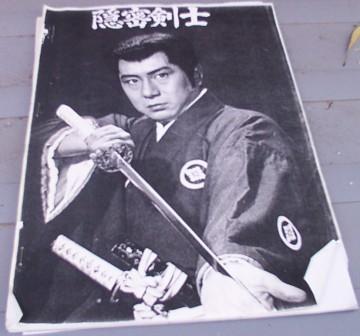 In 1990, the two episodes of The Samurai, "A Touch of Death" and "Living Death" were released to video on the Hollywood House label together with brief archive footage of Ōse and fans when he was out here in 1965 plus a peculiar interview with Ōse who spoke no English and an interviewer (Victor Sawicki?) who spoke no Japanese.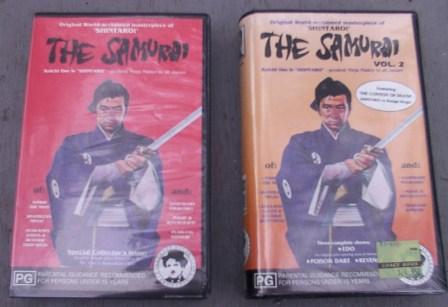 A little later a second volume was released, this time with three episodes, "The Man From Edo" (the very first episode showing Shintarō in full court costume), "The Poison Dart" and "Revenge" from the final story, The Contest of Death. A third volume was released, run off by Sawicki himself with a photocopied cover and sold at the Samurai film session (see below). This had "The Spider" (from Koga Ninjas), "Master Ninja" (from Phantom Ninja) and "Magic Bell" from The New Samurai.
During 1992 and 1993, Brisbane radio broadcaster, Greg Newman, Brisbane Samurai fan, Garry Renshaw (who owns the original wig worn by Ōse when he came to Sydney and Melbourne for the Samurai stage show as well as one of his recordings, given to him by Ōse when he visited him in Japan in 1989) and Victor Sawicki of Sydney's Galaxy Films who owns the surviving dubbed episodes and had released some to video via Hollywood House decided to screen some of these episodes in cinemas in Brisbane (February 29, 1992), Sydney (October 1993), Melbourne (October 1993)and Canberra (4 October 1993). This was not an unqualified success as they lost money in Sydney due to poor publicity but at others they had a good turn out., particularly at the cinema at Carindale in Brisbane which was packed with 600 fans. The Canberra session was at Electric Shadows, Akuna Street on 4th Oct (Monday of the Labour Day long weekend), a day of bitter winds and torrential rain, a real return to winter. Despite that, the theatre was nearly packed. There was some memorabilia on display in the form of Ōse's wig, some gum cards, a poster of The Samurai stage show, stills from one of the feature films and copies of the videos including a new one. Greg had put together a booklet featuring copies of articles from the press of the time and an episode guide. There were four episodes shown coincidentally all featured Amatsu Bin. They were The Spider, Musai's Curse (from Fuma Ninja), Master Ninja and Revenge.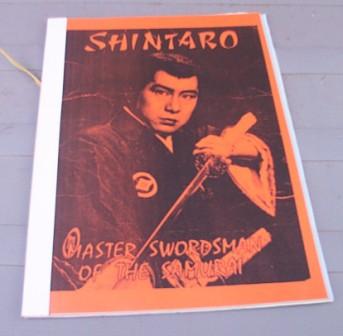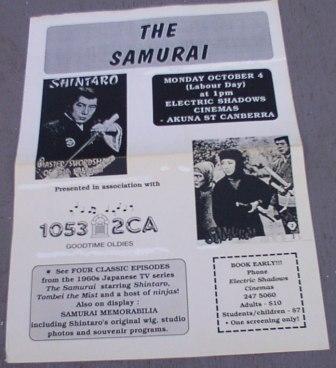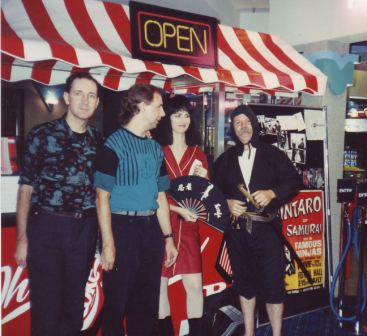 Around 1996/97, Manga Live Action (distributed by Siren Films, South Yarra) put out two volumes of Samurai episodes under licence from Galaxy Films. The first had "The Master Ninja", "Poison Dart" and "Revenge". The second had "Living Death", "The Spider" and "Musai's Curse". Next there were the DVD/video releases from Siren Visual Entertainment in Melbourne which were released from 23 September 2002 to Feb. 2006., They had on March 22, 2002, signed a contract with Senkosha to release six consecutive series (not episodes) of The Samurai on DVD and VHS, originally.. Surprisingly, the Japanese company still has the dubbed episodes. Three stories, Koga Ninja, Iga Ninja and Black Ninja were released as both video tapes and individual DVD discs. Later they were repackaged as DVD boxed sets. . Fuma Ninja was announced in 2004, then dropped and then released finally in March 2005 as a DVD boxed set only. Fuma Ninjas Continued was released in Dec. 2005 and the 6th and last, Ninja Terror released in Feb. 2006. Then in Oct. 2007 Siren deleted the whole lot at the request of Senkōsha's agent, an American who had been rather difficult and uncooperative throughout their dealings with him.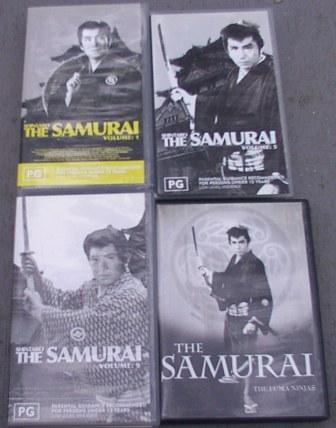 On Tuesday 28th December 2004, Melbourne radio station 3AW commemorated the 40th anniversary of the first screening of The Samurai in Australia on their morning program with Tony and Darren. They told listeners that today was a special anniversary, one that not many people would have thought of, and invited people to ring in with memories of The Samurai, a program most people over 50 would remember (whereupon one of them chimed in with, "But I'm 45!"). They then interviewed me by phone. How they found me is a tale in itself. I got a call the previous week from a woman at the station. When people tentatively ask for "Nikki White" I immediately assume they are going to ask me either about cavies (guinea pigs) or rabbits as I get a lot of calls about same. So when she said The Samurai, it didn't immediately register. "Samurai? Samurai – what breed is that? Oh Samurai," went though my mind. Apparently she had found the website but there wasn't a phone number on it (well, not on The Samurai part, no, only the email address). But if she'd gone to the Canberra Rabbit Club or Southern Regional Branch of the NSW Cavy Club pages she would have found it. Did she do that? No, she found me on a totally unrelated website, the Canberra Cat Fanciers Association and asked one of the cat fanciers for my phone number. As you do, when finding Samurai fans.
Anyway, the interview was about 5 minutes long. They asked me what attracted to me to The Samurai, was it available on DVD, whether there was much interest in it now, how well the production values stood up (other shows being satirised for wobbly sets), about the Samurai stage play/pantomime, what effect it had on my life and so on. I answered in a humorous vein, keeping it light. I've done radio interviews before (some by phone, some on tape and some in a studio on a range of topics). I wonder if any other radio stations celebrated The Samurai?
The Samurai can be found on YouTube as a number of Australian fans have posted clips from episodes (copyright? what's that?). The most interesting to me, because it was original and funny, was someone's trip to Japan in search of the ninja house in Kōga Village. Below these are comments from other fans on the series. The best way to find them is to type "Shintaro" into the search box, rather then "Samurai".
On Wednesday 4 November 2009 at 8.30 pm, SBS screened a documentary on The Samurai and its impact on Australian culture and society in the 1960s and beyond. This was entitled Shintaro! The Samurai Sensation That Swept a Nation. It was written, produced and directed by Marco Sinigaglia of Chardonnay Club and In-Motion Media Group, based in Brisbane. Among those appearing as interviewees, apart from Ōse Kōichi, (in no particular order) were Richard Lyle, chief program classification officer at NINE (and brother of David Lyle of of Golden Years of Television fame), Nigel Rennard of Siren Entertainment, Garry Renshaw (fan, also based in Brisbane who has the Shintarō wig mentioned above and a number of other pieces of memorabilia), Sydney-based radio broadcaster Ian Rogerson, Sydney-based comedian John Doyle (of Roy Slaven and HG fame), Melbourne comedian and actor Santo Cilauro, talent agent Neil Clugston, Ron Lee, "corporate ninja", Sydney-based theatre producer and writer Wayne Harrison, Dr William S. Armour of the University of NSW, Kerrie Dougherty (conservator at Sydney's Powerhouse Museum whom I know from Dr. Who fandom), Andrew Verity, a fan, Melbourne comedian and radio personality Steve Bedwell, Melbourne radio personality Peter 'Grubby' Stubbs... and me.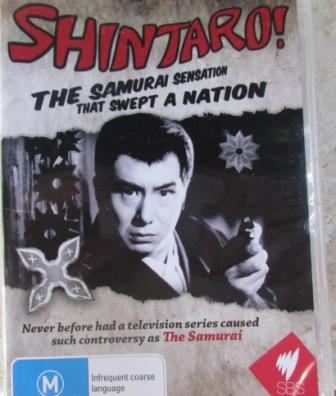 I had first been contacted by Marco some time in 2007 though things didn't start happening much until early 2008 when he was able to secure interest and some funding. At that point the documentary was to be called Shintaro, Our Aussie Samurai. A little later the title was changed to Shintaro, the Cult of the Children's Samurai. By July 2008 it had its final title of Shintaro, the Samurai Sensation Which Swept a Nation. In March 2009 pre-production began as SBS was backing the documentary. I was asked to do an interview in April which was when they were planning to shoot the documentary and as I was going to the Sydney Royal Easter Show to exhibit my cavies, I agreed. The interview took place at 9.30am on Friday 24 April at the Chauvel Cinema in Paddington which is also used for making films and things. The interview lasted an hour or so. I was one of six people they were to interview that day and they'd been interviewing most of that week. They interviewed about 30 people, I think. I didn't meet any of the others, except Ian Rogerson who was on after me and had arrived early so we had a brief chat. That weekend they were flying to Japan to interview Ōse and a producer of The Samurai. Editing was done in May and Marco flew down to Canberra in June to photograph and/or scan some things in my collection. In October they sent an email to all participants telling them when it would be broadcast. After the broadcast they sent us each a DVD of the documentary. For more on this and my impressions click here.
Since then I have had a lot of people contact me, either by email or in person (people at work or in the cavy fancy including a judge up from Melbourne for our Christmas show in 2009 so there was a small Samurai moment just before the judging of the main breed classes where a bunch of cavy fanciers stood around nattering about the show). People really seemed to have liked the documentary, not just for the memories it brought back, but because of its discussion of its impact on Australian society. and the way it opened up the country to Asia. It has since been repeated a number of times over the years.
Probably the most enduring and useful outcome of the screening of the documentary was the setting up of a Facebook group in late 2009 by the Gus and Jeni Henderson from WA, simply called The Samurai. This has brought together all sorts of fans who would otherwise not know of each others' existence. There are over 200 members, not all in Australia. There are some ex-pats living in Europe, also fans from the Philippines where it was shown and some from the USA who are interested in it because they are interested in Japanese films or history or culture. People have managed to unearth some interesting photos such as some behind-the scenes shots, Ose and other actors in other roles, covers of Japanese magazines with Ose in costume, playing cards with scenes from the show issued in Japan and so on.
In April 2010 SBS released the documentary on DVD. In the meantime Siren re-released from February to November 2010 the original series in a remastered form with the original Japanese soundtrack and subtitles done in a new translation by an American company (who used this website as reference since it had never been broadcast there) as an option along with the 1960s English dub we are familiar with.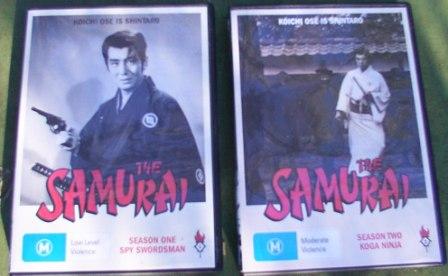 In March 2014 it became available streamed from GooHead via Roku (a media streaming device you plug into your HDMI socket which allows you to pay for and watch TV shows and movies you want to see) or via Androids and other tablets. In February of that year it was also the subject of an academic paper by David Chapman, a Japanese Studies academic at the University of South Australia.
28th December 2014 was the 50th anniversary of the first screening of The Samurai in Sydney (and in Australia). Most other places got it at various times in 1965, hence it was decided to hold a 50th anniversary get-together in Brisbane in September 2015 at Greg Newman's house. The invitation was issued through the Facebook page. Unlike the "roadshow" of the early 1990s, only a handful came, though they came from far and wide - Perth, Sydney, Murwillumbah, Canberra and Brisbane. Garry brought the Ose wig, I brought The Samurai LP and scrapbooks, Greg brought the DVDs including the Japanese releases and there were other memorabilia displayed on a table. Greg had made some T-shirts and posters featuring Ose or some of the master ninja. He had also managed to track down the American voice-actors who did the dubbing and secured interviews with them which he played for us. We learned some interesting things such as they more or less moonlighted to do it as they were supposed to be doing radio work for an American forces radio station and that even the original Japanese version was dubbed as they did not record the sound when on location.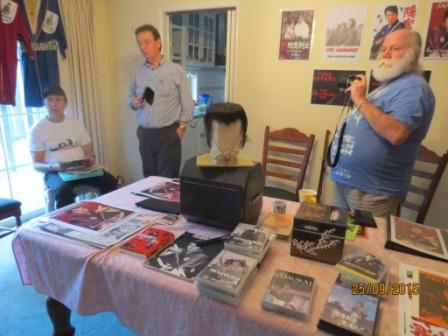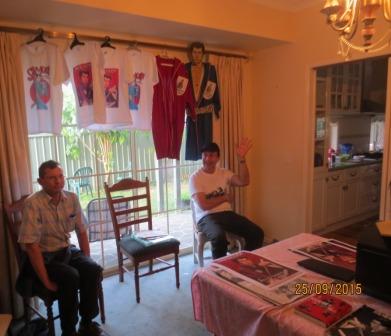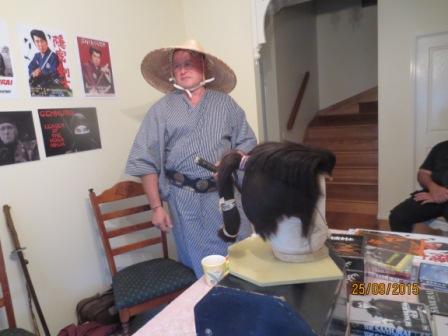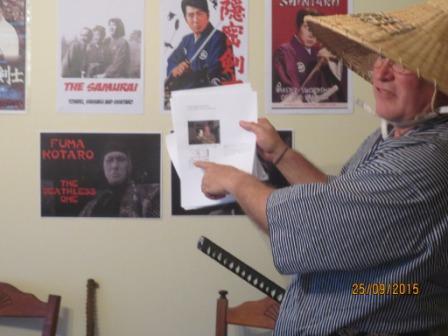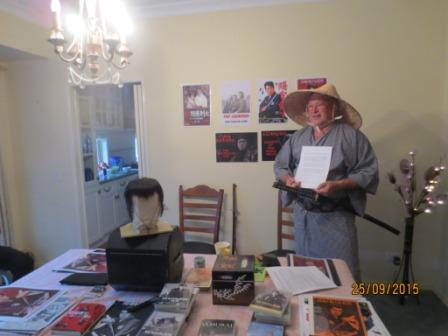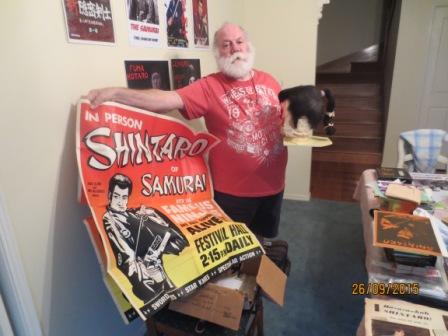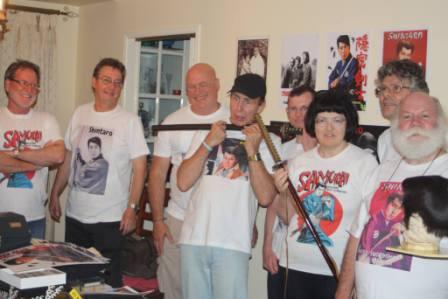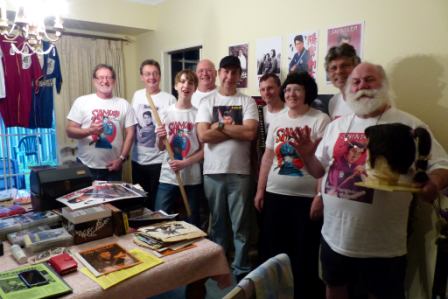 David Lovegrove( pictured in Japanese dress) had received an email from Ose which he had had translated into English and read out to those present. This is the document he is holding. He had told Ose about the group and that there would be a gathering to mark the 50th anniversary of the series' screening Australia. The full text is here. Garry Renshaw is the beardy bloke with the poster and wig. Greg is the one seated and waving at the camera in the 2nd photo. In the last photo are (left to right): Michael Bauer, Lindsay Metcalfe, Jayden Newman, David Lovegrove, Greg Newman, Ross Parkinson, me, Greg Nishimura Parke and Garry Renshaw (plus some bloke's wig or a longhaired cavy in partial wraps). The Melbourne Observer gave the event a write up on December 2, 2015.
June 5 2016 saw a Japanese film crew fly to Brisbane to interview Australian Samurai fans (basically whoever could be scrambled as it was very short notice) for a documentary series called Rediscover Japan. The producers rang David Lovegrove from Japan regarding his great interest in Japanese history and culture (David is a martial artist, among other things, also the other sort of artist with brush and pencil and has visited Japan a number of times). The subject of Onmitsu Kenshi came up and he told them about the Facebook group. They were keen to interview Australian fans about why they love Shintaro et al., how the show affected their lives and interests. It was broadcast on 16 August and the interviewees were dubbed into Japanese. Among those present were Greg Newman, David, of course, Garry, and Jayden. There were 15 all up of various age groups. It was filmed at Greg's home and they put on a Samurai-style skit featuring ninja, a beautiful lady being rescued and a heroic samurai. The segment ran 13 minutes. It is also where the infamous Samurai Club song came from, composed by the creative Greg. At the end of the filming, the director produced her Mac book and showed a video from Ose Koichi with a special message to his Australian fans which ended with him being attacked by ninja, drawing his sword and seeing them off. (Man must be as nutty as we are). Apparently he was so touched that a group of fans were keeping the flame alive after all these years in an another country.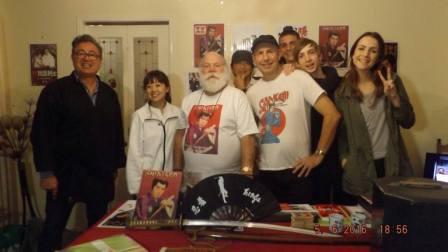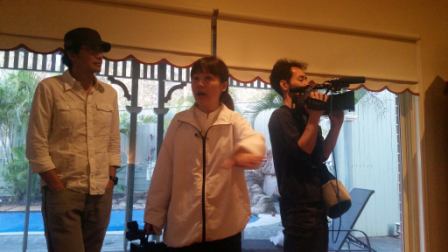 On September 28 2016, Connected, a variety, lifestyle and chat show for south-east Queensland featured a segment where Greg Newman and Garry Renshaw discussed The Samurai.
Presumably as a result of the Rediscover Japan segment, the organisers of the Sydney Matsuri invited him out - he had a stand entitled The Samurai. Not sure what he did apart from meet and greet for an hour but it was a fiercely hot day. Those fans who went were quite burnt. It was a one day event on 10 December 2016 at Darling Harbour. Since he was coming out, he wanted to meet his fans and again this was done through David Lovegrove - one of the organiser's of the visit, Ito Masami, got in contact with him. They certainly had some grand ideas imagining a club with over 200 members and planning to book the Convention Centre. Obviously they didn't know the difference between a Facebook group and a fan club. Anyone who has administered a Facebook club page or group and who has been on the committee of an actual club could tell you there is a huge difference. For example, the NSW Cavy Club has over 1700 likes on its Facebook page but the club itself has about 50 members. They did get it finally and said there would be a limit of 30 tickets at $65 each as Mr Ose didn't want to be overwhelmed. As it happen 30 tickets were just sold, the last one going about a day before the event which was on 11 December between 1pm and 4pm at the Rydges World Square.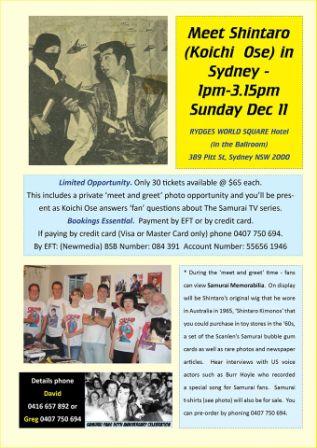 This was all done through the Facebook group though I did put the poster advertising it on this site as well.
One odd thing is that the organisers approached my sister-in-law Claudia Chan Shaw who does a radio program on East Side Radio, specifically one on Wednesday evenings where she interviews an interesting individual usually prominent in their field, a recent one was artist Nick Stathopoulos, and offered Ose for an interview. As he doesn't speak English and everything would have to go both ways through an interpreter, this would not make for riveting radio. She declined politely.
They had booked one of the ballrooms and decorated it with reproductions of photos from The Samurai, some behind-the-scenes (Shintaro slashing daikon was pretty special), some of Ose at home with his dog or a good friend, a sumo wrestler, some publicity sots, also articles from Japanese magazines of the time plus even some articles from the Australian Women's Weekly. There were two screens where a montage of episodes was screened and later a PowerPoint presentation on Iga-Ueno. There were a lot of big round tables around the room where fans could sit and talk and we had plenty of time for that. There was also a table where publicity photos of Ose as Shintaro and copies of Onmitsu Kenshi ima koko ni yomigaeru! were for sale. One copy of the book was signed by Ose. Greg brought some of his T-shirts for sale. Each person was given a "show-bag" which contained a copy of the glossy booklet on the series which had been produced for the Sydney Matsuri, some blurb about the Ninja Museum at Iga Ueno and a poster. On the tables were some pens and paper to write a message to Mr Ose.
The first item, after screening some bits from The Samurai to set the mood, was a Q&A with Mr Ose. No photographs were allowed during this, there would be opportunities for photos later. These questions had been sent in the month previously by members of the Facebook group, translated into Japanese and given to him. His answers were translated by Katrina who interprets sumo wrestling matches broadcast on TV. Some of his answers were brief, or he didn't answer the question (possibly either he didn't hear it properly or didn't understand it and I don't think the interpreter really knew much about the program to do a follow up or an expansion to draw him out). We did learn he likes to swim and on his one day off when he was here in 1965-1966, they all went out on a yacht and he wanted to jump over and swim in the Harbour. He was warned of sharks. My view is that sharks would have been the least of his worries. What about all the dead cats, tins and other junk? When asked if he an Maki Fuyukichi (Tonbei) were friends off-screen or was it a purely professional relationship, he didn't reply but did say he and Amatsu Bin were good mates, even though he always played his enemy. He would often go down to Amatsu's place at Kamakura and the two of them would go swimming.
After that, we were called up one by one to shake his hand and have a photo taken with him. The organisers had everyone write their addresses down on paper provided. These would be sent later and were part of the ticket cost.
He then withdrew to change his jacket into a white one as he wanted everyone to sign it (while it was on him). While he was gone, a girl from the Iga-Ueno tourist bureau gave a presentation on the Ninja Museum there (which I visited in 1983) and other attractions.
When he returned he went down among the fans, handed the first one a Texta (there was some sort of order based on a numbering system) and had him sign the jacket while he was wearing it. I must say I wasn't very comfortable about writing on someone's clothing especially while they were still in it. Talk about invade personal space (blame my postwar English upbringing). At the same time fans brought things for him to sign or had him sign their clothing. I had him sign the Onmitsu Kenshi LP - he did a bit of a double-take when he saw it and signed his name in Roman script as well. Greg Nishimura Parke, who is a musician, played the main theme on his (Western) flute. Later the other Greg rounded up the troops and sang the Samurai Club song - the Japanese seemed to get the humour and laughed. And then Ose got all teary, he was so touched. He seems like a very nice man, very genuine.
Eventually it was time to pack up and some of us adjourned to the nearby Civic Hotel for drinks and snacks. It was an extraordinary experience, quite surreal in its way. For many it was a chance to meet (or meet again if they were lucky enough to be at the performances in 1965/66) their childhood hero. For me it was almost weird because I never thought to see him in the flesh - I was not able to see him or the stage show in the mid-60s because we were living with my grandparents who didn't have a car. I was also more of a ninja fan and tended to see the show as an ensemble thing. Now there he was and me writing on his jacket. As you do, with total strangers.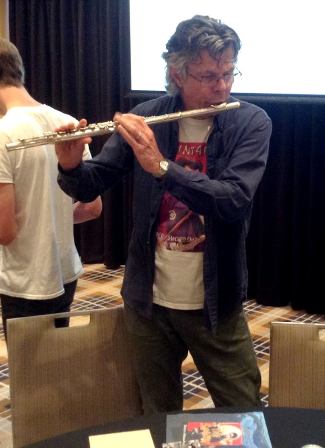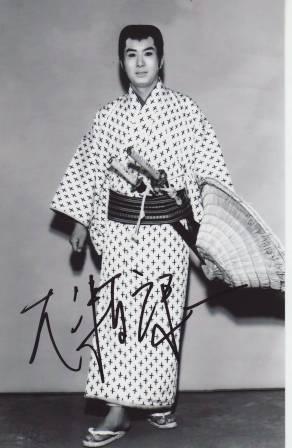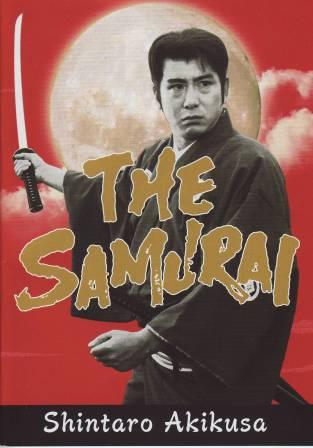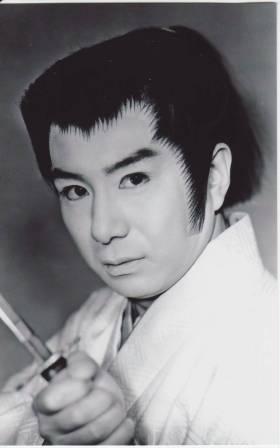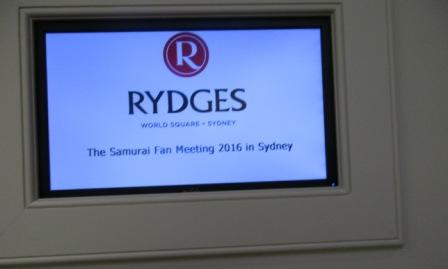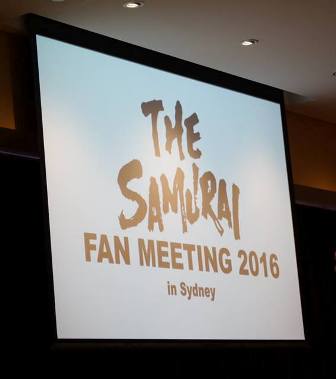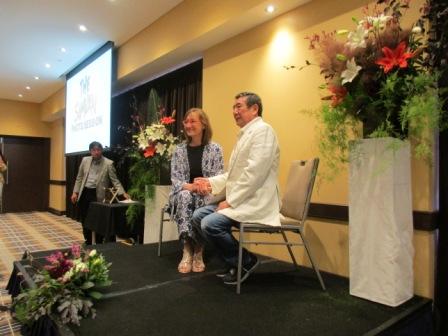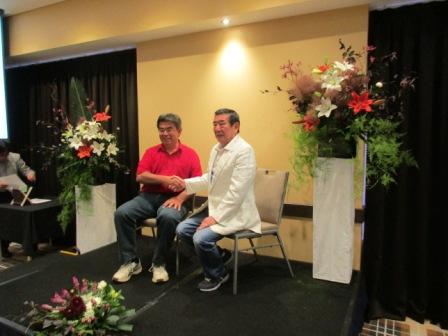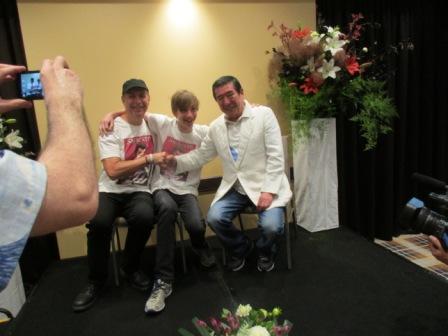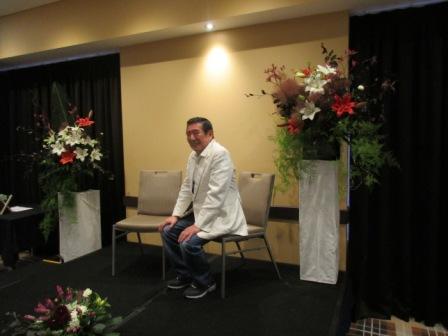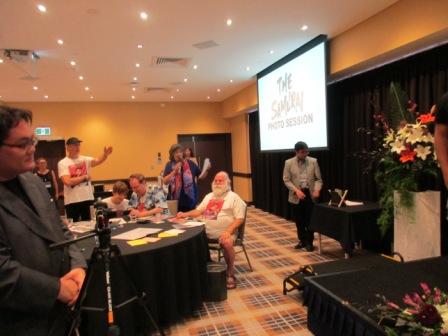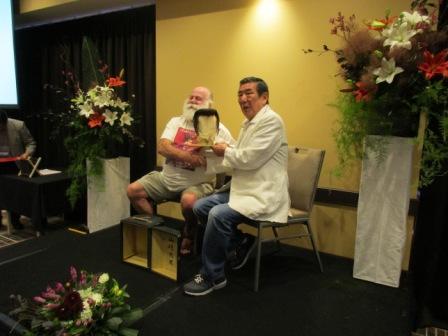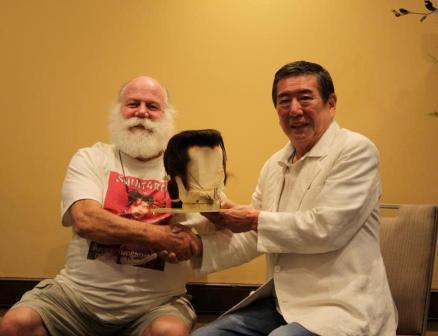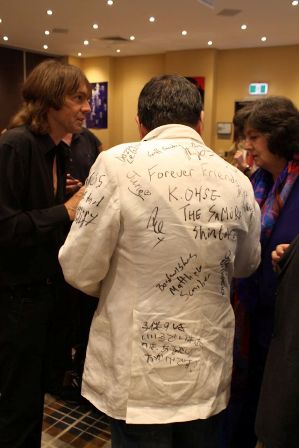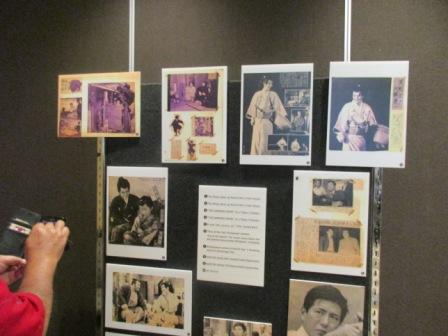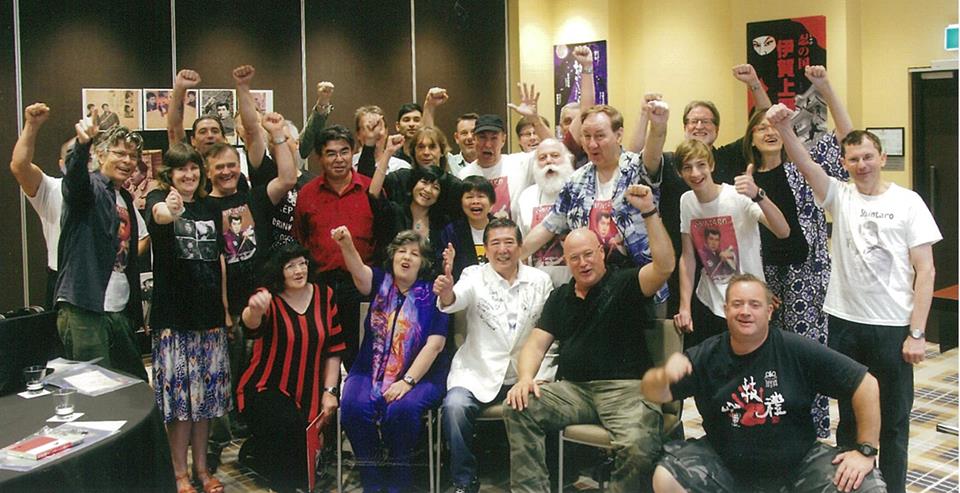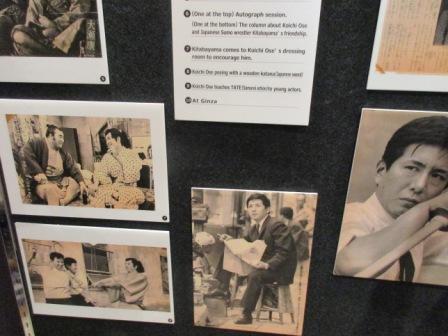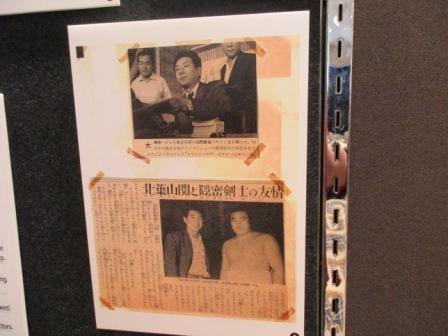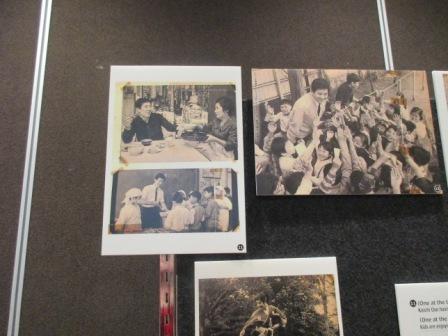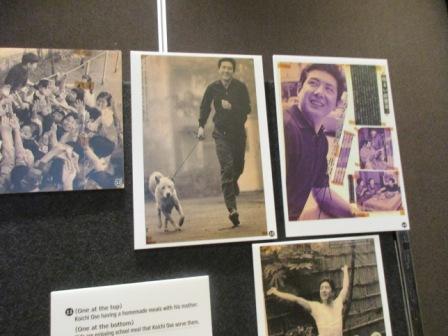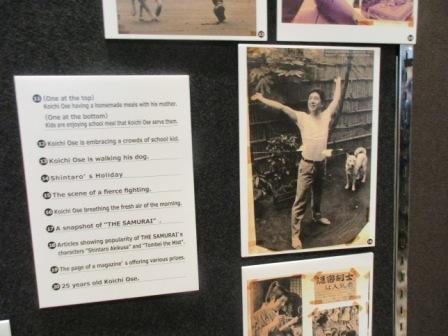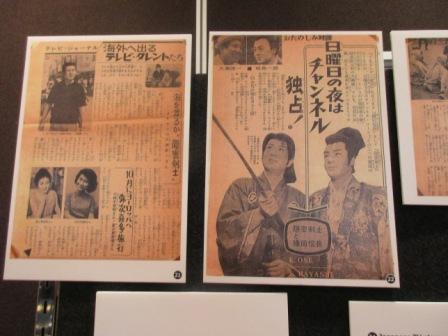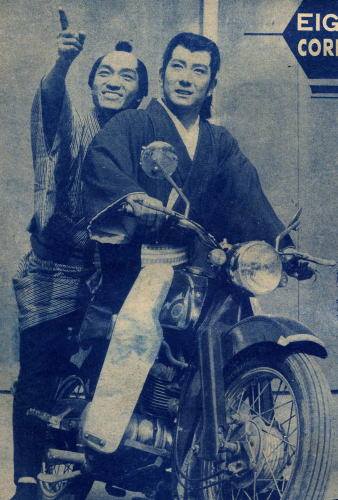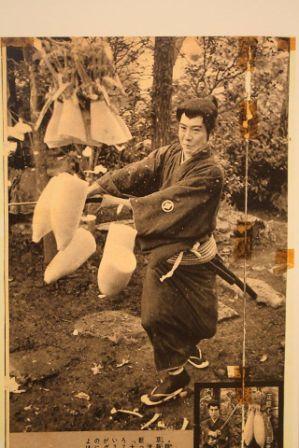 Most recently another fan get-together was held in Brisbane on 17 November 2018. The usual suspects plus some new faces gathered to watch episodes of The New Samurai with subtitles - Greg Newman contracted someone to translate the first couple of episodes of the first story and he added the subtitles on the Japanese-language DVDs he has. Also viewed (again) were the Rediscover Japan segment on The Samurai and the Connected segment. On view were The Wig plus the articles from Japanese magazines of them time which had been up on the ballroom at the Ose get together in December 2016. (The organisers had thrown them in a bin and said Greg could have them if he wanted them). David brought some copies of a Japanese comic book based on Onmitsu kenshi though published recently. which I brought the soundtrack LP again plus some other items.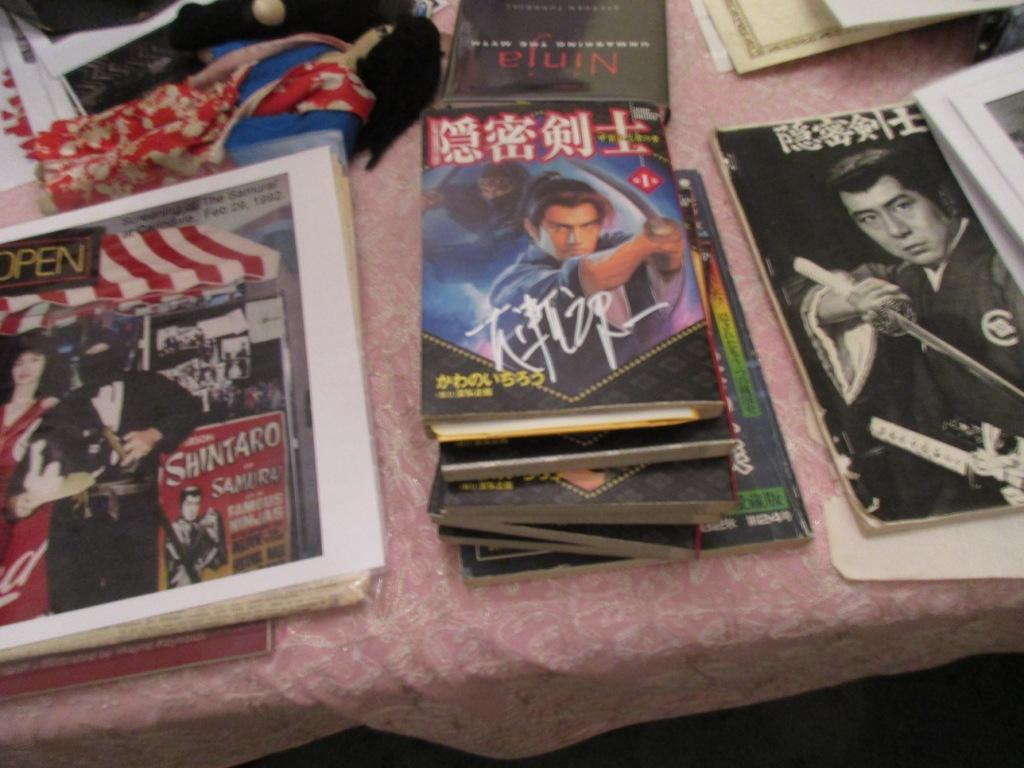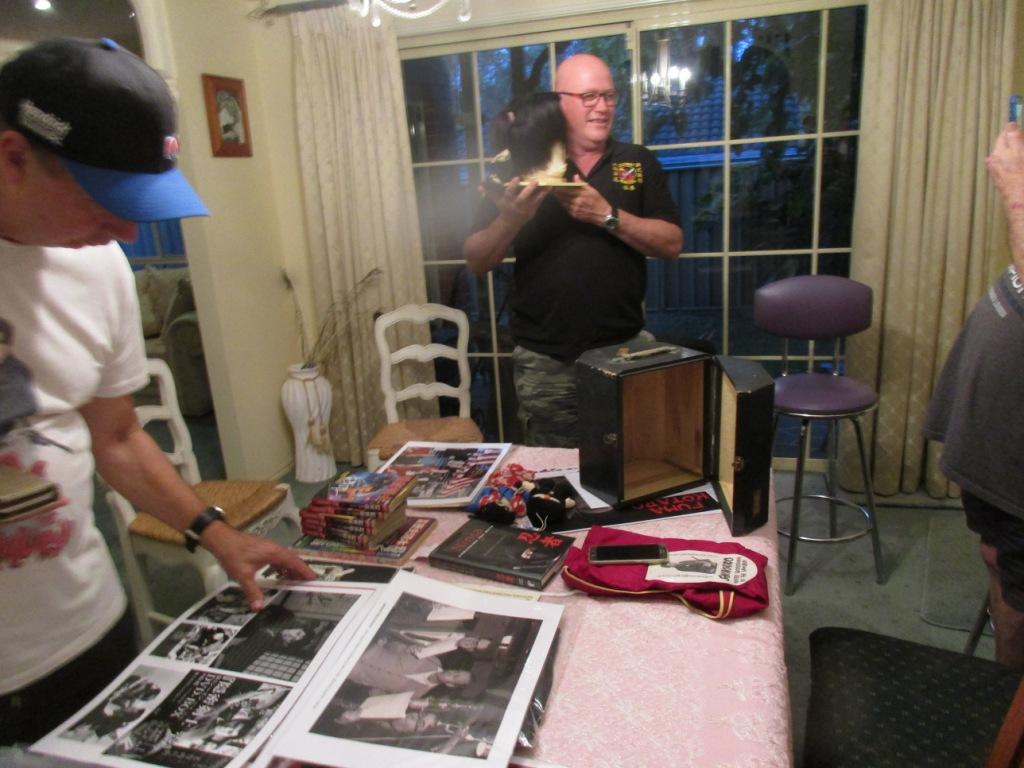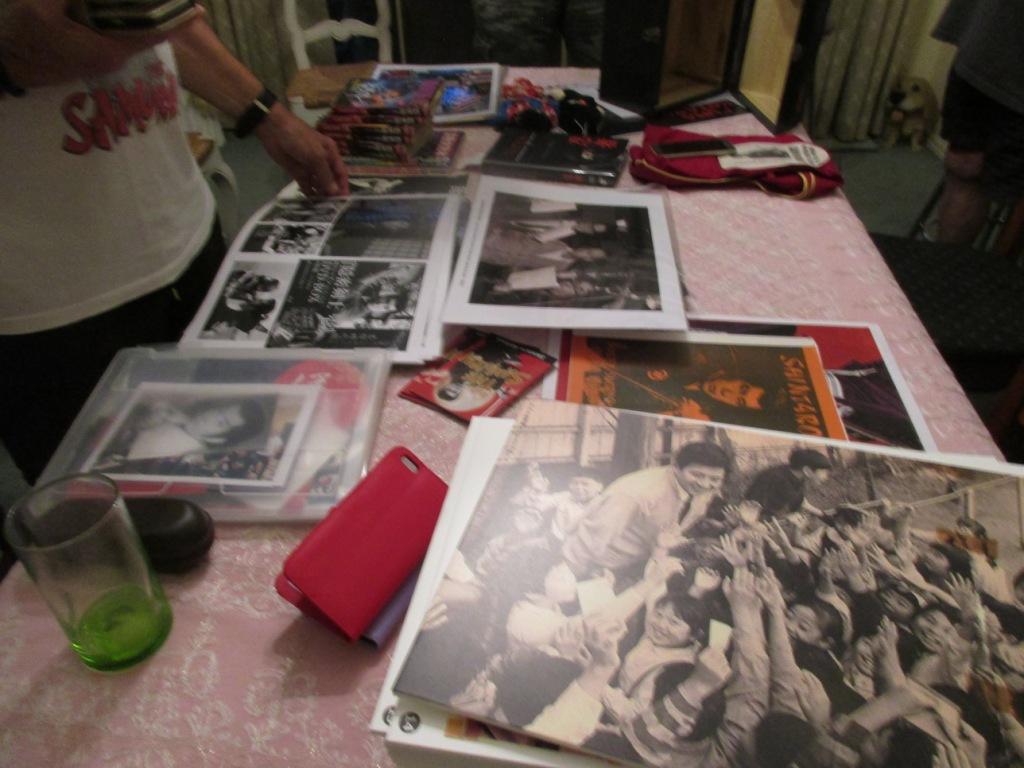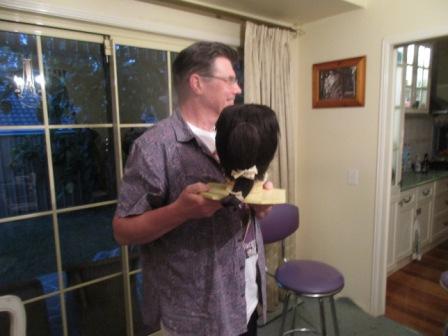 [Cast & Characters] [New Samurai] [1973 Revival] [Historical Characters Mentioned in The Samurai] [Articles in the Australian Press] [Phantom Agents] [Episode guide - Man From Edo] [Episode guide - Koga Ninja] [Episode guide - Iga Ninja] [Episode guide - Black Ninja] [Episode guide - Fuma Ninja] [Episode guide - Fuma Ninja Continued] [Episode guide - Ninja Terror] [Episode guide - Phantom Ninja] [Episode guide - Puppet Ninja] [Episode guide - Contest of Death] [Introduction] [Historical Background] [The Phenomenon in Japan] [Ruth Manley] [Shintaro documentary] [Phenomenon in Australia] Home]